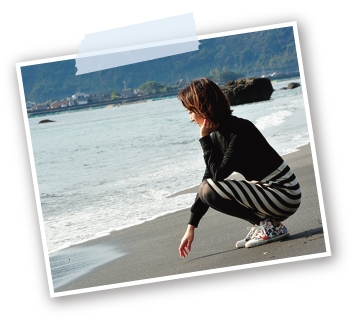 Traveling alone (some feeling to begin) of woman
Tears overflowed when we breathed a big sigh.
You must not cry. Because we are defeated by oneself. Tears overflowed to encourage so oneself.
 We should have had "already decided shu rinishiyo".
 Have me, Moroguchi realized. We were 1 year high school's junior, and there was Kishiwada Shinichi. He had good build, too and sang song well above all. Figure to sing by school festival magnificently was divine. As I was chorus club, we came to exchange words familiarly. As direction of way back of club activities was the same, we returned well together. It was kissed for the first time in shady nook of Shinto shrine. Association continued even after Shinichi advanced to College of Music. One day we found Shinichi in crowd of Shibuya. Foot which we were going to run toward stopped. We were not alone. We are with soremokanaeno close friend, Noriko. Shinichi who passed hand to waist of Noriko whispers to her ear what it is. Noriko laughs joyfully. It is fault of new lover Noriko to have changed manner of some Shinichi these days. The color of blood goes down from body. noda which "was thrown away."
 On rainy Sunday, Shinichi does not come anymore. When pick up trip magazine casually in bookstore of station building; "you good luck trip!" no letter jumped into eyes. It is said that luck opens out when we put on cover of pan and pass through torii. It is said that luck opened player who is famous for sports from this thing.
 Place is article with Kamabuta Shrine close to Ibusuki, Kagoshima hot spring. Let's go! I will hold luck by oneself, too!
 We reserved airline ticket and hotel of Ibusuki Onsen in net promptly. We chose seaside hotel to be able to look around of Kaimondake and Kinko Bay. Let's drain tears into the sea. And let's get power to live for from south light. We have a feeling that something new begins.