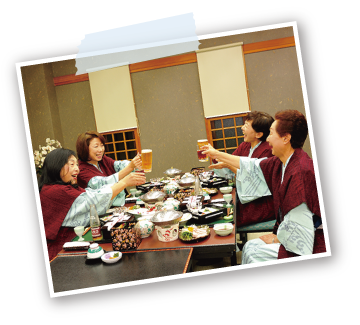 Small class reunion
"It lands at Kagoshima Airport soon"
Heart of four women of trip to celebrate the sixtieth birthday for announcement in plane becomes exalted. We see Sakurajima! One said.
 Close group of 4 learned in the same class in high school days. One Kiyoko that it was results excellence most that entered a school of higher grade to university. Later three people found a job in brokerage firm, general contractor, insurance company after graduation from high school.
 Four people whom we borrowed rent-a-car from at airport aimed at seniwaoen with car navigation system. seniwaoen which was annex of feudal lord of Shimazu is magnificent garden seeing magnificent Sakurajima close. Fusae who found a job in insurance company got married first of all. To Fusae who look at Sakurajima, and sheds tears everybody "what happened" We heard to. Fusae took pass holder out of the pocket of chest. There are 30 generations and photograph of woman to see inside.
"My daughter, Teruko. It was for cerebral palsy by difficult delivery at time to be born in my first babies. When we became pregnant three years later, we did not have the courage to give birth to me. Then, as for Teruko, the master is not hereditary. Surely the next child is strong child. As we said to, we gave birth. It is Yuko of two girls. Yuko took care in Teruko of older sister in gentle babies well and was daughter whom one's selfishness did not say to.
Then we did again for three years, and Takayuki of the eldest son was born, and this child valued Teruko, too. Yuko was junior high student, and, as for Takayuki, the master died of liver cancer at the age of primary schoolchild. We could not go to work because I had Teruko and supported life while doing calligraphy classroom at home.
Yuko graduates from high school, and work, Takayuki enter the medical department of national university in welfare institution and become perinatal medical doctor. Teruko suffered from pneumonia from a cold two years ago and has died to the master. 
We had you invite this time, and Yuko put photograph of Teruko in this pass holder, and Takayuki sent the travel expenses and pocket money off.
Pains that Kiyoko did not go with mother-in-law of husband well, and got a divorce. Pains that son was guided by shoplifting and drug use as for Hideko who found work in general contractor by the police. Pains that Michiko who found a job in brokerage firm, and made marriage between co-workers lost eldest son Makoto in traffic accident during elementary school one year. Each had on trip to Kagoshima.
 Do not have whom while seeing the setting sun of Kinko Bay and Kaimondake opening in front in open-air bath of Ibusuki Onsen when it is said; "the life may be various. But Nature is so gentle without changing. The first star which it had good to come shines.