Introduction of breakfast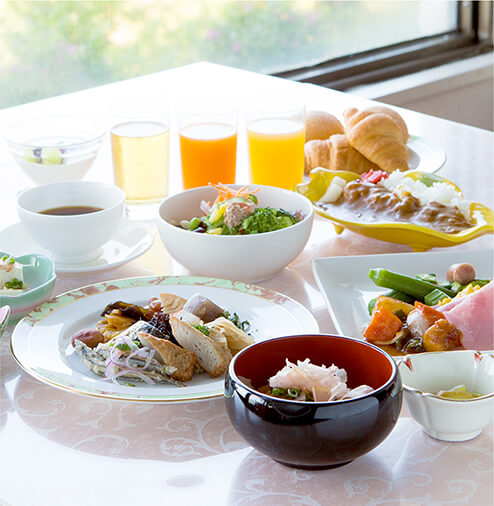 Seaside breakfast
Look around the sea in restaurant venue, flowers, trees
You can enjoy environment that bathed in sunlight of southern country.
Meal which we selected mainly on local ingredients
Please enjoy.
Breakfast becomes Japanese and Western buffet form.
Please have during from 7:00 a.m. to 9:00.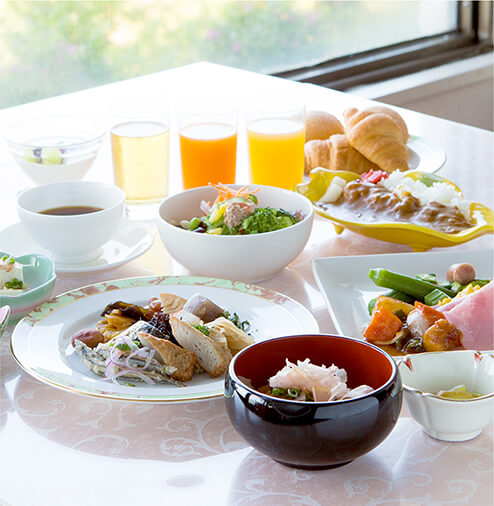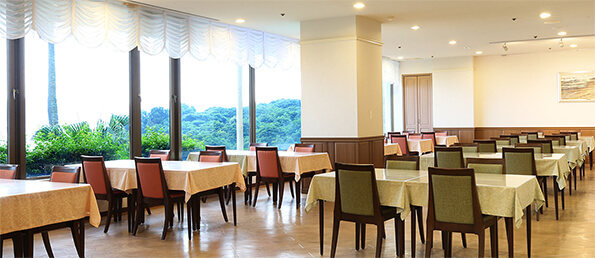 While enjoying the sea
One-day start
While enjoying good superb view of view and atmosphere of southern country
We can eat.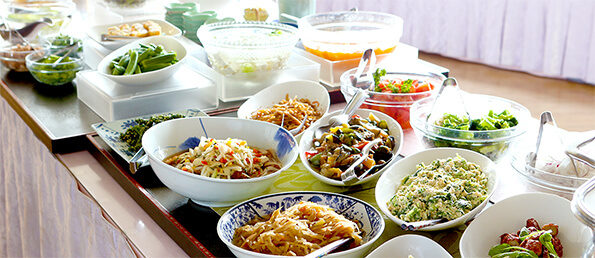 Local side dish in a row
Let alone local cuisine using local ingredients,
Specialties of charge cook on the day form a line.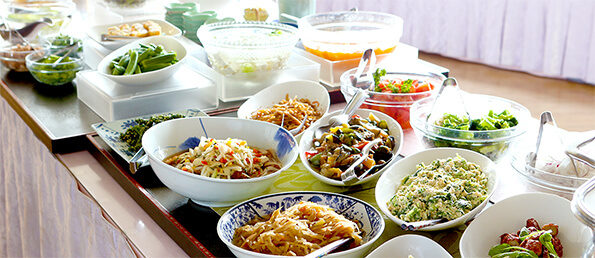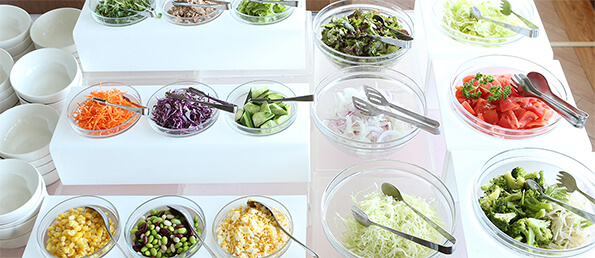 Colorful salad bar
Nice salad bar is substantial to woman.
Please use.
Use of highest grade dried bonito from Ibusuki!
Is meibutsuhonkosetsu; and chazuke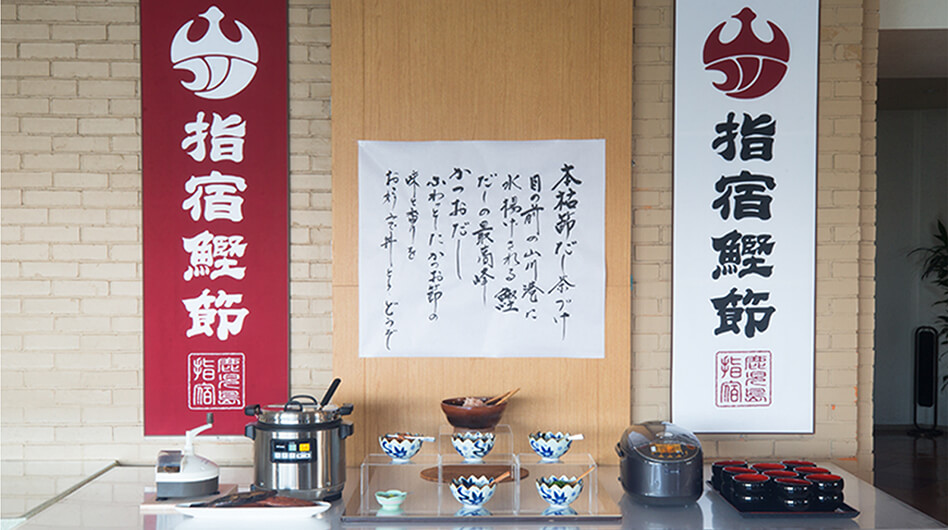 In the mountain River to see in front of the hotel, amount of production of honkosetsu is number one in Japan.
As for "the soup stock chazuke using honkosetsu," small; if eat,
Rich flavor and taste of bonito soup stock spread in mouth.
We put spice you like and can cook "soup stock chazuke" of oneself preference.
It is recommended to just have soup stock.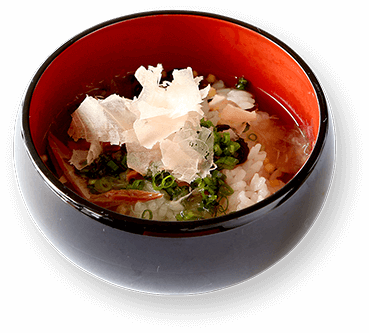 Customer gives nice voice to!
Oh, see; state 30s woman
Breakfast was buffet, and there were very many kinds, too.
Stock ochazuke has overeaten itself very deliciously.
nachikichi-like woman in 50s
Dried bonito stock chazuke is the best! Dried bonito stock chazuke of breakfast buffet
Unrivaled article! We ate for the first time, but are delicious. Recommended.
mm-like woman not to look after who waits in 40s
We did cost performance and view, too and we quitted, and appeared and bought bath.
Taste of dried bonito chazuke of breakfast in particular is not forgotten♪
Yuririn-like woman in 40s
As for the breakfast, a lot of kinds particularly stock chazuke was very delicious!
In addition, we want to eat….
We use marusaka Sakai store-like discerning "honkosetsu"
Ibusuki Ichiyama River located at Kagoshima, the southernmost tip of Satsuma Peninsula,
It prospered as base of Ryukyu trade and deep sea fishing
We are known as town of skipjack around mountain River Port.
1909, dried bonito manufacturer of Iyo
We borrow shed of mountain River and make Tosa song,
It is mountain River dried bonito that we learn the manufacturing method and were begun.
It is made now by the traditional tradition manufacturing method
As for marusaka Sakai store in 1950 Sakai beef pine (the first generation)
Commencing with dried bonito production, we succeed Ryo Sakai deep ga tradition for the second generation,
It is inherited now for the third generation to Hiroaki Sakai.
In "national dried bonito competitive show" to be held once in four years,
The 18th, the 19th and two major meetings continue,
We can win blue ribbon "Minister of Agriculture, Forestry and Fisheries Prize".
We are particular about the traditional manufacturing method,
We spend approximately six months during production period and are made carefully.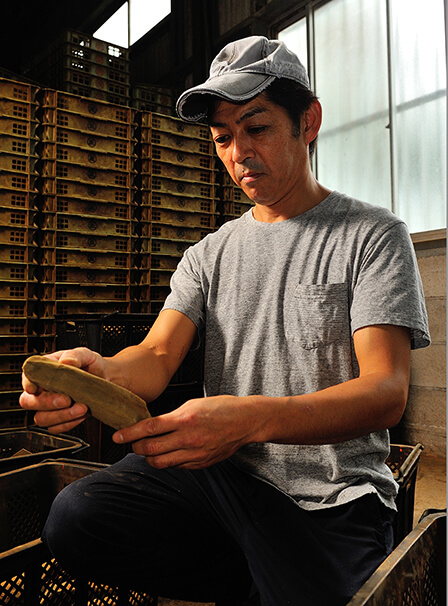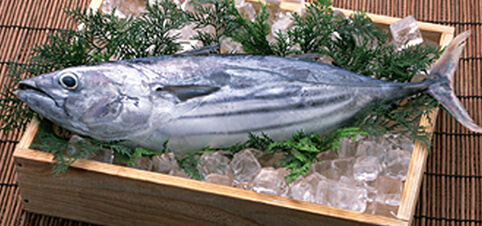 To make the best dried bonito,
We use the best bonito!
In Ibusuki Ichiyama River Port that sea near the shore bonito fishing is prosperous
Landed high quality bonito is prepared by main material.
We do not regret trouble,
We draw taste slowly and carefully!
"The mold is dated" "drying in the sun" that is important in creating taste of dried bonito
Normal dried bonito is around two times, but is marusaka Sakai store
We draw taste of dried bonito to the maximum four times by being repeated.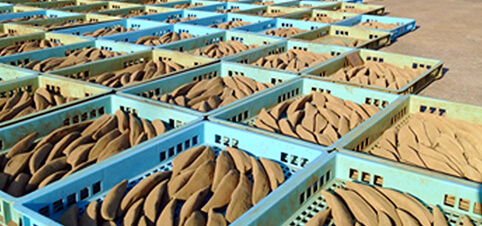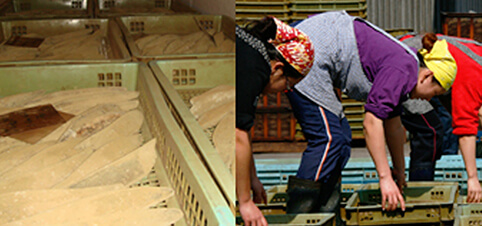 Spend time slowly and carefully
Dry in the sun!
Solar blessing of Ibusuki Ichiyama River of climate that is warm through the year
Seem to take in much, production period: We spend six months and bring up slowly and carefully.